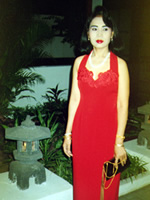 out of my usual sweat-suit
I'd like to share some information with you and also let you get to know me a bit (because if you do business with us, you want to be able to count on me for help).
I'm originally from Indonesia and have extensive experience with products made in home industries throughout Indonesia and Asia. I started a company in Indonesia in 1994 to export art objects. I traveled to remote villages in Asia (Bali, Java, Sumatra, Borneo, Lombok, Hong Kong, Singapore) in an effort to find the most unique treasures. For several years I've made my living through exporting and selling these unique products to American retail stores.
In 1996 I moved to the United States with my American engineer husband and have made this my home. In 2002 I began designing and creating jewelry especially unique and fashionable for the modern woman. For several years my husband and I have created page listings and have been selling my jewelry creations on eBay. We now offer my creations on our own website, Siti's Gallery. We specialize in beaded jewelry.
We make all sorts of necklaces, dangle earrings, chandelier earrings, and bracelets from beads of gold, silver, semiprecious stone, crystal, and pearl. Because high quality ocean pearls are very expensive, we only use high quality cultured fresh water and man-made pearls. Our crystals are from the Austrian manufacturer, Swarovski. You can read more about the components we use in our Creations in our Glossary.
Ok-- I hope you enjoy your visit with me. As I've mentioned elsewhere in our site, I'm happy to help you in any way that we can. If you need any help, please just send me a note.
We're a small, informal company.
Cheers,